What people are saying about us
"Hi, Just wanted to say how great our trip was. We picked up in Manassas again and we both went with a slight dread as the RV last time, 2017, had its problems. However, this time it was very new but the most important change was the staff. They couldn't have helped us more both on arrival and departure. I thanked the staff member in the depot but if you ever have to give feedback they were all great. We had no issues and all went smoothly.
I'm sure we will book again!
Best wishes
Judith"
"We got back on Sunday, just wanted to say what an amazing trip it was, And thank you for all your help and advice. Canada is stunning! My colleague is interested in hiring an RV from Chicago in October - I've given him your email.
Kind regards
Ingrid and Jon"

"Just back from California and I wanted to say thanks for all your help! It was awesome and we will take everything we learnt to improve our next trip.
Many thanks
Mark"
"Simon and I wanted to let you know that we had an absolutely amazing time in America, and loved the RV experience.We are so grateful to you for your help and suggestions along the way - I felt like you were on the journey too since your maps and itineraries were with us every step of the way! All our preparation and advanced bookings certainly paid off. It felt like 5 holidays in one with the amount of distance and sights that we covered - every day was another exciting adventure. We've plenty of memories and photos to last us a lifetime. Many thanks again and very best wishes"
"Thanks so much for the revised route it's perfect. I think we are now sorted other than packing. It seems strange as I thought it would be a hard task to plan this sort of trip but it as been very easy and enjoyable thanks to your help. We will definitely be recommending you to others if they are planning a road trip state side and we will definitely book again. We will let you know how we get on with the actual trip but I am sure it's going to be a trip of a life time"
"We just got back from our trip yesterday, it was fantastic!. Thank you again for all your help with the itinerary - we did 2000 miles (luckily we both drive!) but it was all worth it. There was so much to see and do every single day. Some friends are already thinking of doing the same trip (oh, and other friends too!) so we will pass on your name"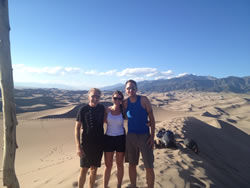 "We are back from our wonderful trip and wanted to say thank you. Everything went smoothly and the route and all the rv parks were out of this world. We saw loads of wonderful scenery and wildlife and took the helicopter flight over the canyon, which I must say was the highlight of the whole trip!

We would definitely do this again and have recommended Cruise America to friends who are thinking of doing the same trip.
Thanks again and we will definitely speak again"
"Thank you for all your help in arranging our Florida trip. We were astounded at all the wildlife there was and thoroughly enjoyed it all. Only one hiccup at Boyds Camp ground in Key West. For some unknown reason they cancelled my booking. I had phoned, e-mailed and they had sent confirmation and taken a deposit. They never really explained why because they did not know. They appear quite disorganised. However with a little jigging they did fit us in.

Our highlights were the Homosassa Wildlife Park, Ringling Museum, Anhinga trail, John Pennekamp Coral Reef and Merrit Island.

Thanks again.
Meg and Peter"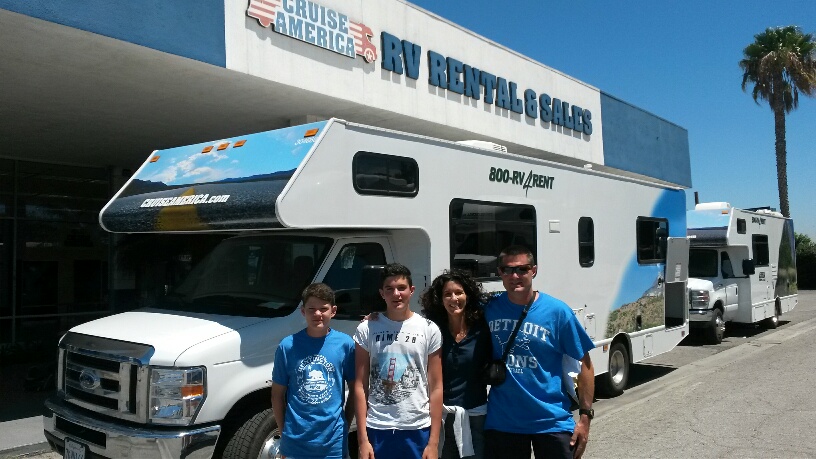 "We got back about a week ago and it was the most fantastic holiday we have ever had!!! The best bit was also the RV, it was awesome and we are now already looking at doing another one!!! I have attached a picture of us collecting the RV at the Cruise America site at Carson, LA. Everything about the RV worked so well and amazingly we didn't have a single thing go wrong or complaint. We phoned Cruise America up the day before pick up and they said we could collect at 11am which was a real surprise but fantastic! We travelled easily to Bakersfield RV and it was a nice, clean and tidy site with a lovely pool. We then had a glorious stay at Lodgepole in Sequoia which was brilliant. Then we stayed at Indian Flats and spent a great day in the Yosemite Valley, saw a black bear!. There were fires at the Toga Pass so our trip to Las Vegas had to go back via Bakersfield but after an 11 hour drive we made it! Vegas was pretty amazing, the boys loved the rifle range!!! Oasis RV park was great, lovely pool and very clean and tidy. Hoover Dam and the Grand Canyon RV park - really nice big site with our own resident huge bull Elk!!! Trip down to San Diego was long but fine and Campland was great fun - packed on the weekend but almost deserted on Sunday afternoon and Monday. Nice beach and we had a day at the zoo which we loved. Decided against SeaWorld on moral grounds. We then drove back to LA to drop off RV. Sad to say goodbye to her! Thank you so much for helping us with our itinerary and booking up everything. Very much appreciated and we really did have the holiday of a lifetime!!! If you want to hear more about it you only have to ask!!!
Cheers, Tom"